Trincomalee's newest hotel – Now open for business
Amaranthé Bay is a chalet-style luxury resort hotel located in picturesque Uppuveli, 6 km (3.72 miles) north of Trincomalee town, about six hours drive from the capital Colombo.Trincomalee, the port city in Sri Lanka's east coast,situated 165 miles from Colombo, has the fifth largest, and one of the world's safest natural deep water harbors, and miles of unrivalled pristine beaches and tranquil blue sea that entice weary travelers to relax and re-energize.
Connected by road, rail and air, Trincomalee offers a variety of activities and places of interest to suit different age groups and leisure pursuits.Beach activities include whale, dolphin and turtle watching,surfing, scuba diving, snorkeling, fishing, wreck and coral diving. History lovers will be fascinated by the architecture of ancient Buddhist and Hindu religious sites and the Trincomalee War Cemetery, while the adventurous would be stirred by the Hot Springs of Kanniya and Lover's Leap.
Amaranthé Bay has an idyllic setting in a shady coconut and Palmyra grove, with the ocean and white sandy beaches, a few minutes away, on one side, and, on the other, the meandering Pillaikulam Aru.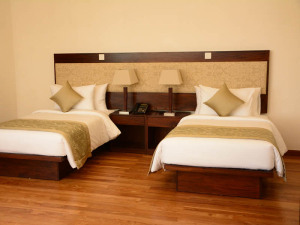 There are 30 spacious, air-conditioned deluxe guest rooms with gleaming teak floors, and are classically furnished with handcrafted mahogany furniture. Silk and cotton bedding, contemporary furnishings, elegant bathrooms with rain showers and other luxurious modern amenities make for an unforgettable stay.
Every room offers a panoramic view of the Pillaikulam Aru and the vast Indian Ocean beyond. Each has strategically located Jacuzzis, free Wi-Fi and mini-bar facilities, also IP telephones and room safes for peace of mind. A state-of-the-art electronic key card system assures maximum room security.
The hotel offers comfortably furnished, air-conditioned and non-air-conditioned dining areas, with dining options that include three food and beverage outlets with eight individual themes in ambience and cuisine. A cozy bar that comes to life as darkness falls, includes a pool table, dartboard and a wide screen with sports and music channels. The therapists at Amaranthé Spa will pamper guests with an unforgettable rejuvenating and total de-stressing experience.  A contemporary business center and classic boutique outlet are among the many facilities offered by 'Amaranthé Bay'.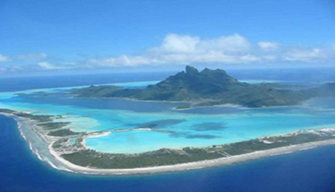 Fringed by a coral reef off Nilaveli Beach in Trincomalee, Pigeon Island National Park is the only national park that nurtures the entrancing Blue Rock Pigeons. It also contains some of the best coral reefs of Sri Lanka.
Amaranthé Baywill provide canoes, kayaks and boats to explore the fascinating eco-system of Pillaikulam Aru, which dreamily drifts by the hotel and watch glorious sunsets, only the east coast could provide.See for yourself why Amaranthé Baytops the list of great vacation spots in the east coast of the sunny isle.
The Bibiliotheque, primarily a sit-down restaurant, can be converted into a meeting room when required. Equipped with all amenities, the Amaranthé Bibliotheque accommodates 150 persons theatre style and 60-banquet style.
A 20-meter emerald pool with a Jacuzzi that could accommodate half a dozen guests, invites a soothing aqua experience, while the Amaranthé 'i-bar' is a Caribbean-themed pool hangout. 
Amaranthé Bay, with its romantic and enchanting surroundings, is a perfect wedding and honeymoon destination. Its family focus beckons family outings and social gatherings, while its professional ambience and contemporary facilities provide the ideal setting for residential conferences, seminars, conventions, and corporate events.
We pamper our guests way beyond what is expected from a small luxury boutique hotel.
For more information and reservations, please contact your travel/tour agent or access the website at http://amaranthébay.com.