Trincomalee ('Trinco'), is a prime eco-tourism area located in the north-east coast of Sri Lanka and boasts a number of attractive beaches in locations such as Uppuveli (where Amaranthé Bay is located) and Nilaveli. Trinco is also famous as one of world's largest natural harbours and the locality is gradually stirring up after 30 long years of hibernation, tourists are flocking back to the region and facilities for visitors are sprouting up along the coast .
One of the major attractions for tourists visiting Trincomalee is diving. Marble Beach, south of the harbor and Pigeon Island Nature Park accessible from Uppuveli, are two places where divers and snorkelers could have a glimpse of the fascinating underwater world populated by turtles, reef sharks and several types of corals with every imaginable hue. Snorkeling in the Pigeon Island nature national park is a 'must-do' event for those visiting Trincomalee.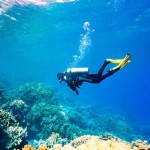 Swami Rock (Nursery slope 6-12 m), below the fabled Koneswaram temple, which once stood on 1000 stone pillars and was destroyed by the Portuguese in 1622, is another location where divers could swim with morays, blue stripe snappers, colourful parrot fish and many more varieties of fish.
Other locations in the vicinity for diving include, Fort Fredrick Point (6-18m), Uppuveli House Reef for a remarkable collection of corals (1 km from the beach 5-10 m depth), Eel Rock for Moray eels (12-18m depth and 2.5 k.m.) and Fort Rock (28-34 m depth and 3.5 k.m. from Uppuveli and 15 minutes by boat), are some other locations to enjoy diving.
Trincomalee also has a resident population of Blue Whales and Sperm Whales. From May to August they remain close to the shore, approximately 6-8 nautical miles east of Trincomalee and the distance could be covered in about 30 minutes. The sea around Trincomalee also has a large population of dolphins, mainly playful Spinner Dolphins.
There are over 200 ship wrecks around the coast of Sri Lanka, majority of which have been located and since have become favorite spots for divers. From Pulmoddai, north of Trincomalee (M.V. Cordiality) to Kalmunai (H.M.S. Holyhock, M.V. Ledra, MFA Athelstane), Batticaloa (H.M.S Hermese), the British aircraft carrier sunk by Japanese Zeros during World War II, Vakarai (the British Sergeant and Lady McCullum SS), to locations such as the Great Bases and Little Bases in the south-east are strewn with shipwrecks dating back to 14th century belonging to the Ming dynasty, Portuguese, Dutch and the British.
Amaranthé Bay is happy to arrange diving expeditions with experienced professional divers as well as to satisfy most discerning divers, who are looking forward for a lifetime experience.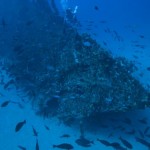 On the other hand, whether exploring the shoreline for a fishing experience, or heading for deep sea game fishing, that too is an experience Amaranthé could provide.
Are you an experienced diver or yearn to be one? Whatever the answer, Amaranthé Bay can help make your dream come true. We could arrange for you to undergo PADI courses with well experienced groups, whether you wish to undergo training for Scuba Diving, or undergo Open Water Diver Courses, Wreck, Night, or Deep Diver courses. If you are passionate about diving and desire to gain certification, contact us for arrangements with experienced service providers in Trincomalee, who would help you to provide Advanced Open Water Diver, Rescue Diver, Master Scuba Diver and Dive Master certification courses.
By the way, after a heavy day of diving, you could return to Amaranthé Bay for a relaxed evening, enjoy a long drink at the 'Pool Bar' and rejuvenate yourself at Amaranthé Spa to be ready for another exiting day tomorrow! Yes, there is always a 'tomorrow' in Trinco!
Remember, April to October is the season for vacationing in the east coast of Sri Lanka, whether diving, snorkeling, fishing or enjoying the sights of spinner dolphins or blue or sperm whales.
Contact us at: www.amaranthebay.com, or call us on: + 94 26 20 50 200